Nude Hegre Art fashion model Lza Steyaert from France naked in chair showing all her sexy tattoos in erotic art photos Tattoo Girl by nude erotic art photographer Petter Hegre.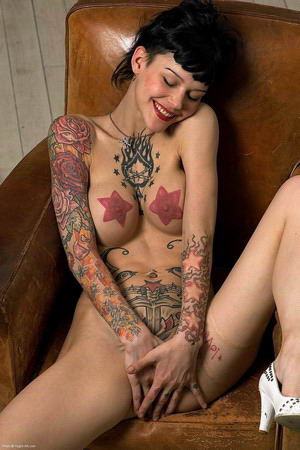 Free nude pictures of Hegre model Lza Steyaert
Lza is a former French fashion model, turned nude model and actress. She acted in her husband's new film 'On ne devrait pas exister' (We Shouldn't Exist). Her husband is HPG (Hervé Pierre Gustave) a famous French porn star turned director.
On ne devrait pas exister was selected for Director's Fortnight 2006 at Cannes Film Festival (Quinzaine des réalisateurs 2006).
Synopsis:
Hervé is a 37 year old porno actor. Weary of the excesses of this fringe universe, he decides to hang up his Condoman costume and turn over a new leaf as a mainstream movie actor. He thus enters a world he knows nothing about. Rejected by his fellow actors, Hervé is just dying to learn the rules of the game.
Special friend of the day: Hawt Babes
lza lza steyaert hegre lza model hegre art lza hegre art nude art erotic art hegre archives nsfw petter hegre brunette nude naked france french model tattoo elsa steyaert HPG on ne devrait pas exister we shouldn't exist cannes